Archive for
October, 2014
0
Paul Lang, Maintenance Coordinator for iConn Property Management writes:
Some advice for student tenants regarding their utility bills and what to do when things are not right;
SENARIO ONE: If we are the managing agent for your property.
We have notified the utility companies on your behalf. When you first move into your property you are provided with an inventory which contains meter readings which were taken at the beginning of the tenancy. These meter readings are provided to all the utility suppliers registered for your address via our office as your opening readings. Some utility companies will take a while to update there information but you should start to see bills arriving this month.
SENARIO TWO: If your Landlord provided you with your inventory and completes your maintenance.
You need to confirm with your Landlord if they have notified the utilities on your behalf, if they do not then you will need to call the utility companies yourself and set up your new accounts. Use the start date on your tenancy agreement as your opening account date and provide them with meter readings. These should be on the inventory provided by your landlord but if not then call your landlord direct to confirm them and what companies are the suppliers.
SENARIO THREE: If your bills are included in your rental price.
You need do nothing further as the accounts for the property will remain in the landlords name.
ADVICE FOR ALL:
If post arrives that is not addressed to you then please either drop it into our office or back in the post box with "Return to sender – Not at this address" on the envelope. This is normally due to a cross over of information being received by the companies and by returning to the sender it should stop them from writing to the address again.
If the post is in the correct names but the dates or readings are wrong you will need to call the company and confirm your details with them. Use the date on your tenancy agreement as your start date (even if you did not occupy for summer months your tenancy started on this date and so you are responsible from the tenancy start date) then provide them with your meter reading from your inventory as your opening reading. You may want to provide them with a more recent meter reading at the same time. This is advisable as most companies base their bills on "Estimated" usage and if you have not been in the property they may be overcharging you, by providing a recent reading they will only generate the bill for your exact usage. Once you have confirmed these details with them they will then amend your details and resend you the correct bill.
Water bills – these are normally calculated at a set cost for the year regardless of occupation or usage. You should receive two bills for your water supply, one is the water IN and one is for the water OUT. You can arrange with them to pay on a yearly, quarterly or monthly basis dependent on your preference but again the account will be from the start date of your tenancy. Some properties may be on water meters and the companies will come and read these every few months and will adjust your payment schedule accordingly.
Council Tax – The Canterbury city council are notified through our office of all our student properties. They will sometimes write to the address with a yellow exemption slip for you to complete with your student details to confirm that you are entitled to the exemption. These forms are also in your welcome packs. This is standard procedure and once you have returned this to them they will send you a new bill with a zero balance to show that you are exempt. You must be aware that if your courses do not start till later in the year there is a chance they will charge you for the period between the start date of the tenancy and the course start date if necessary and if someone living in your property is not classed as a student then the exemption will not apply. They may be entitled to a reduction but the full exemption will not be allocated.
TV license, Telephone lines, Internet access, Sky or Digital Television Services – are not classed as utilities and you will need to set these type of accounts up directly with the companies you are choosing for supply.
At this time of year the utility companies do receive an excessive amount of notifications because of all the student tenancies in Canterbury which turn over in July and August. We do keep a record of the notification from our office as proof but, because of the large numbers of notification, the companies sometimes miss things or set up accounts incorrectly. It is no problem for us to re notify them for you but, if a bill is arriving in your name it is more advisable for you to call them direct, as once an account is set up the companies will sometimes not speak with us because of data protection. If bills are arriving in your name or some companies have your details but other do not it is evident that our notification has been sent and that some companies have not updated their details yet, so you may wish to call them to confirm your details or call us and we will re send the notification.
I hope this information is useful to you but obviously if you have any further queries then please do not hestiate to contact us and we can confirm the best way forward.
0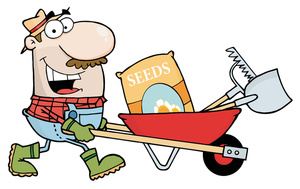 CALLING ALL TENANTS!! For those of you who aren't a fan of gardening, why not instruct our very reasonable gardener Pete from General Gardening Services to organise this for you? Or even obtain a quote!? Call 07814863228 for more information